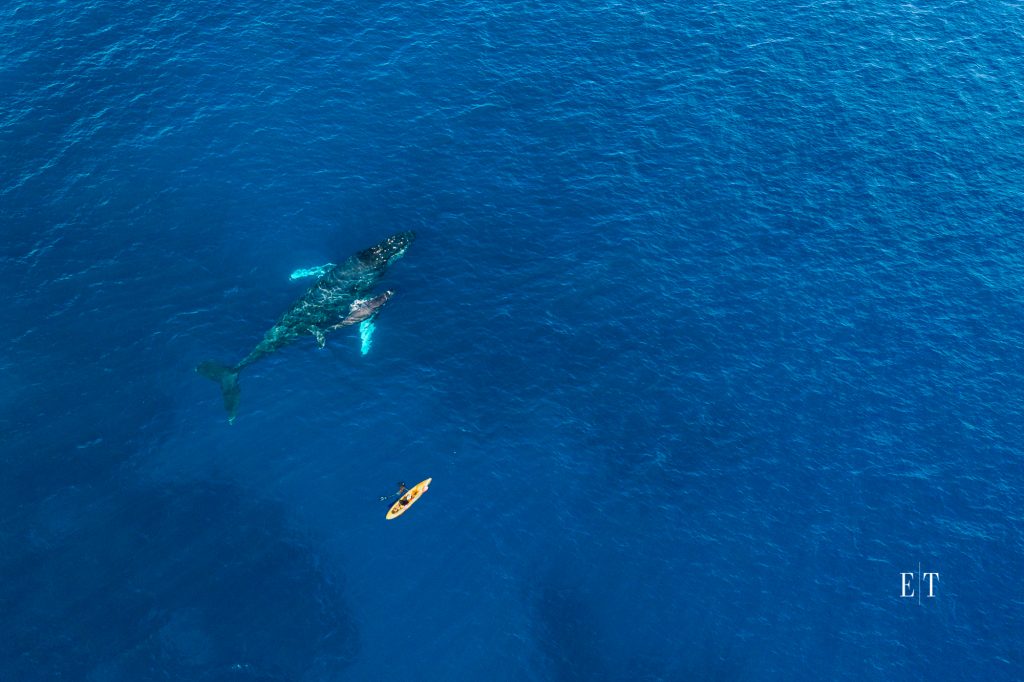 I had a feeling it might be a special day when I launched my Hobie kayak near a rare Hawaii Monk Seal that was basking in the sun on Kiholo beach. There seemed to be a magical stillness about the ocean this morning so after only a few minutes of paddling, I slipped into the water. While floating next to the kayak, as I was listening to an underwater chorus of singing Humpback whales, I suddenly realized that a beautiful mother Humpback and her magnificent baby were swimming by. Their presence in the water gave me both a great sense of peacefulness and purpose. And somehow this extraordinary and deeply precious moment was a powerful reminder of the many gifts that nature has to offer humanity here in Hawaii. 

Magic moment
Wow… so the magic of this day wasn't over yet. Soon thereafter Elisabeth, who was in Graz Austria received an email from our friend Andrea Rybar also in Graz. She had found an awesome photo on a Facebook page which she forwarded to her with the comment… Jeffory? Yes, she replied it's him as she could tell by my different colored fins. Elisabeth then called me very excitedly with this incredible news and promptly sent me the photograph. Honestly, to be able to look at this photo that was taken from above by Ethan Tweedie only 5 hours after this amazing experience with the mother and baby Humpbacks… made this a totally magical, somewhat mind-blowing and truly delightful day. 
So, a few hours later after I had time to gather myself, enjoy the photo, integrate this wonderful contact with the whales and reflect on the happenings of day I called Ethan. He was quite surprised that I found him so quickly and we had a fun conversation about the events of the day.
Later Ethan wrote:
"I had a job at a resort the morning I took this shot, I canceled the shoot because it was raining offshore and needed a shot of the view etc so instead of shooting I headed home to Waimea and saw that Kiholo Bay was pretty so I went down there and decided to fly my drone to get some shots.  As I was flying to the South I heard 2 whales breach almost simultaneously with a huge bang as they hit the water so I turned my drone towards their location hoping to catch some images of them. 
By the time I got over to where they were, they had gone down below the surface.  So I went back towards the South side of the Bay as there was a kayaker and thought it would be neat to have a shot of him in the beautiful water.  As I approached the kayaker I then realized that a whale was swimming toward the kayaker and started taking pictures. The kayaker must have been amazed at this encounter as he floated next to his kayak and I could see him watching the Humpback whale and to my further astonishment a baby calf humpback with the mom!  When I captured the moment with my drone, I was shaking with excitement and so amazed that I just hoped that I had captured the moment properly. 
Jeffory Soto
Mom and baby stayed quite close to the kayaker and gracefully swam past him! When I got home I posted the image on Social Media to share this experience and later in the afternoon I got a call from an unknown person, I answered the phone and a man introduced himself as Jeffory Soto, he asked if I took the shot of him and the whale, I said yes!  I asked him how he found the image etc?"
Mahalo Ethan for capturing the moment… and thank you mom and baby Humpbacks for introducing me to him!